Some Are Deeply Offended By Bill Belichick's Shirt. Are You OK With It? (Photos)
A photo of New England Patriots head coach Bill Belichick wearing a controversial T-shirt is going viral.
According to the Independent Journal Review, the seven-time Super Bowl champion was spotted in July wearing the T-shirt in Nantucket, Massachusetts. The T-shirt features what appears to be a U.S. soldier hunting down a terrorist, who is in turn being bitten by a dog.
The slogan on the T-shirt reads: "Life is great."
A photo of Belichick wearing the shirt quickly went viral, sparking quite a bit of controversy. The photo triggered a debate between liberal and conservative media outlets about whether the T-shirt is offensive.
Social media users had mixed reactions to the photo.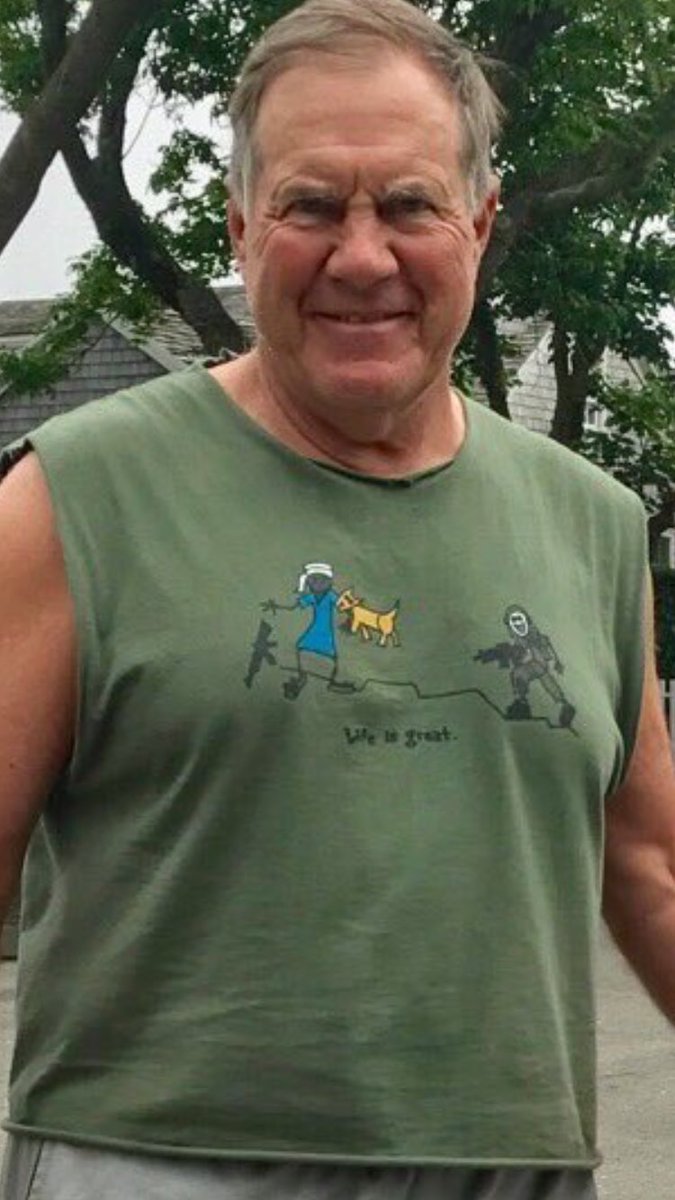 "This article doesn't show any democrats who are outraged," wrote one Facebook user on the Independent Journal Review's page. "It's freedom of speech issue and the left is okay with that. Anyone is entitled to be an a**hole if they want to be, but to lie about it is something else entirely."
"I'm really not sure what people are finding offense with here," another user wrote. "Nor do I see how anyone sees racism here. The man is clearly a terrorist…not a peaceful Muslim. People just thrive on being offended."
"I always love the click bait titles. 'Democrats/liberals/… eat their own fingers when they see this pic.' Then an ad filled 'news story' with no citations and anonymous sources," wrote another commenter. "If CNN is fake news, what do you call this?"
"An example of the huge perspective difference between the left and right," wrote another commenter. "The left sees the guy as 'a Muslim man' while the right sees him only as an Islamic extremist. At least that's the way I see it. I see the dog attacking a an extremist, not Muslims in general. Every Muslim I personally know openly condemns ISIS."
The T-shirt was made by former Navy SEAL Jim Amann. Sales have reportedly spiked since the photo of Belichick wearing it surfaced online. Amann said he plans on donating all profits to the Navy SEAL Foundation.
"It's a worthwhile charity, and I don't want to make a profit here," Amann told the Boston Herald. "This represents more than me and my company, so that charity will get any and all profits from that shirt."
This is not the first time Belichick has made headlines for his political stance. Prior to the 2016 presidential election, President Donald Trump read a letter he received from the future Hall of Fame coach at a rally in New Hampshire, according to The Federalist.
"You have dealt with an unbelievable slanted and negative media and have come out beautifully," Belichick wrote, according to Trump. "You proved to be the ultimate competitor and fighter. Your leadership is amazing … Hopefully tomorrow's election results will give the opportunity to make America great again."
Sources: Independent Journal Review, Independent Journal Review/Facebook, Boston Herald, The Federalist / Featured Image: WEBN-TV/Flickr / Embedded Images: Tariq Nasheed/Twitter, Boston Herald