Many Furious With Kaley Cuoco For This Picture (Photos)
Kaley Cuoco, who stars on hit CBS sitcom "The Big Bang Theory," sparked controversy after uploading a photo to social media of her two dogs sitting on an American flag.
Cuoco was out of town and left her dogs in the care of a dog sitter when she posted the photo — meaning she didn't actually take the shot, Fox News reported.
Some speculated from her Instagram pictures that Cuoco might have been away on vacation with boyfriend Karl Cook.
In the post's caption, Cuoco thanks her pet sitter "for taking care of the squad while im out of town" and refers to her pets as "4th of July pups!"

Many fans were quick to respond, with the majority expressing anger. Some even said they would no longer be a fan of hers due to what they considered disrespect to the flag.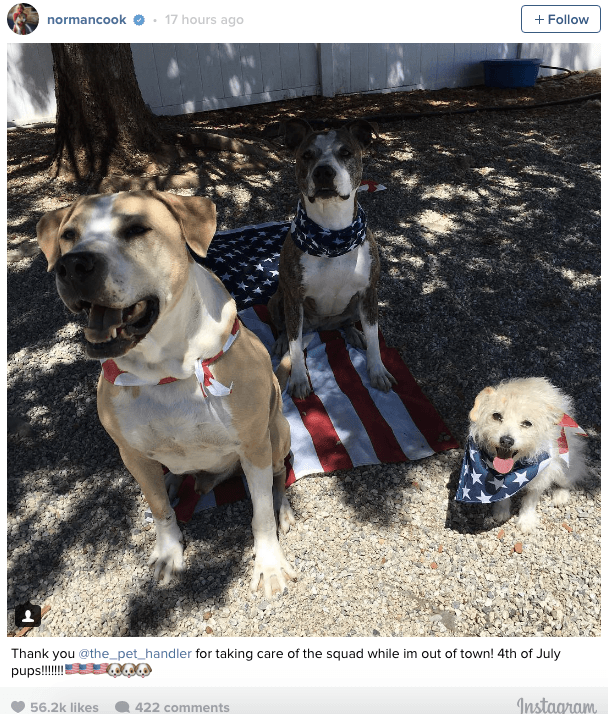 "Showing disrespect for the flag, it should never touch the ground, or let your pet stand on it!" one reader wrote.
"Let me remind you that lot of blood was sacrificed just to keep the flag high," said another.

"That's not a towel," another viewer commented, according to the Daily Caller. "I believe in the right to burn the flag in protest as long as it is in context, that's why so many gave their lives, for freedom. But this is not that, this is simply disrespectful. That's a flag. A symbol of what people have sacrificed."
Some, however, took into consideration the fact Cuoco was not present when the photo was taken.
"Maybe she didn't know that it was a real flag after all she is out of town," one person wrote.
Cuoco eventually took the photo down, but did not comment on the controversy.
This wasn't the first time that Cuoco's dogs captured national attention.
In January 2016, many sympathized with the actress after two of her dogs passed away, People reported.
"We rescue these angels blindly and have no idea what problems they may have," she explained at the time. "I'm still in shock but I just keep feeling blessed to have him in my life even for a small amount of time."
Sources: Opposing Views, Fox News, Daily Caller, People / Featured Image: A Kovacs/Flickr via Wikimedia Commons / Embedded Images: Screenshot/Instagram via Daily Caller, celebrityabc/Flickr